Vietnamese Noodle is not only Pho and traveling to Da Nang is one of the way to see it:
"Da Nang's foodie scene can be summed up best with 3Rs: regional origin, reasonable price and recreational eating…..It is also the destination for very exotic, original dishes…Da Nang is heaven when it comes to noodle with locals regularly downing them, for breakfast, lunch and supper, at homes, in restaurants or at roadside stands." –  Culinary Delight in Da Nang: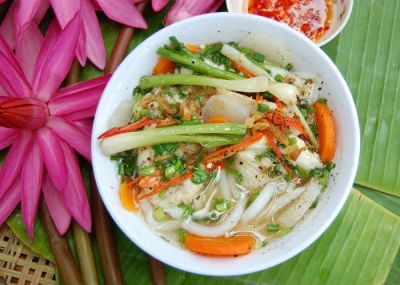 1. Mi Quang (Mì Quảng) – Quang Noodle
Price: 15 000 -30 000 vnd
Mi Quang – Quang style noodle – is a unique dish amongst other noodle dishes – a one must try dish when coming to Danang.
From the first look, you can see green vegetables and herbs (water mint, basil, coriander, chopped green onion, lettuce, sliced banana flower), yellow and shiny white noodles and light – clean brown red broth and simmered proteins (shrimp, pork, chicken, or even fish and beef). For placing, vegetables are placed atop of a bed of rice noodles in a bowl, topped with protein and added warm broth just enough to wet the other ingredients. Extra grounded – grilled peanut and pieces of toasted sesame rice crackers are finally added. Based on those main ingredients, the cooks can play on their own design which can give customers different experience when enjoying the noodles.
The aroma and the taste is a mouthful enjoyment. One bite must include all, noodle, vegetables, herb, protein and other extras. The first taste is the freshness of vegetable and herbs, coming up with the crunchiness of peanut and sesame rice crackers, follow up by the tenderness of the proteins with a bit chewiness from the noodles, all mixing together in harmony  with the intensive flavor broth – seasoned with fish sauce, black pepper, shallot and garlic. The beautiful aroma is added with a hint of peanut oil.
Like most of Vietnamese dishes, the noodles contains itself the theory of Yin-Yang. The contrast of Yin – the cold noodles and vegetable against Yang – the warm of and the intensive flavor broth. This contradictory made the dish not so hot like Pho or Bun Bo but warm (the broth) and fresh (the vegetables) when serving. This character is suitable to the weather of the central region – hot which is the reason why the dish can be served as breakfast, lunch and even dinner.
It is quite hard to short out the best Mi Quang restaurant since the dish can be cook and display by the chef recipes. The best way is companied with a local
Recommend addresses:
– Any roadside stands
– Bà Mua: 19 Trần Bình Trọng or  231 Đống Đa
–  Mì Xứ Quảng: 2 Phan Đăng Lưu
–  Mì Quảng Tuý Loan: Túy Loan village, Hòa Vang district
Learn how to make Mi Quang at Danang cuisine
2. Bun bo (Bún bò)– Beef noodle
Price: 15 000 -30 000 vnd
A hot and hearty bowl of rice vermicelli, atop with thin slices of marinated and boiled beef, herbs (chopped green onion) and soup is the distinctive dish that you must try when come to Danang. Unlike Pho which the main flavors come from anise star, cinnamon and other spices, Bun is much simpler with the predominant flavor of Lemon grass. The broth is a result of a long cooking process with beef bone or beef shank, lemongrass, fermented shrimp sauce, sugar and very spicy chili oil. The result is a light brow and clean hot broth with a beautiful balance of spicy, sour, salty and sweet and the flavor of lemon grass.
*Attention: Some people may not like the steamed blood so remember to tell them put it aside if you are the one.
Recommend addresses:
– Bún Phượng: 14 Triệu Nữ Vương
– Bún bò Bà Diệu: 17 Trần Tống
Learn how to make Bun Bo at Danang cuisine
3. Bun Cha Ca (Bún Chả Cá) – Fish Cake Noodle
Price: 15 000 – 25 000 vnd
This is another type of Bun dish, actually Da Nang have many kind of Bun but Fish Cake Noodle is the most original one.  Unlike Bun Bo, the main recipes of Fish Cake Noodle is very different, it include fried fish, kohlrabi, pumpkin, fresh bamboo shoots, little shrimp pork, onions and tomatoes. In serving, you can choose between 2 types of fish cake: steamed and fried. "Adding a little lemon, a few slices of chili and eat associated with raw vegetables, slowly enjoy sour spicy, salty, sweet, fleshy juicy blend of fried fish" – Tour Da Nang City
Learn how to make it at Da Nang cuisine
Recommend address:
– Family Traditional Fish Cake Noodle: 109 Nguyễn Chí Thanh
4. Banh Canh (Bánh canh) – Cake Soup
Price: 10 000-25 000 vnd
Another must try dish in Danang is Banh Canh, a kind of noodle soup with variety of adding and topping. Unlike Bun, Pho or Mi Quang, the noodle of Banh Canh is much thicker which is made of three different kind of ingredients rice, wheat or tapioca mixed. The soup is a simple broth with pork bone, fish or shrimp/ crab, seasoned with fish sauce, pepper. There are several kinds of Banh Canh but the most popular in Danang is Banh Canh Cua – a rich, thick crab soup, often with the addition of quail eggs; Banh Canh Bot Loc – a more translucent and chewy version of the noodle and Banh Canh Cha Ca – the dish includes fish cake.
Recommend addresses:
– Thanh Hương (snakehead fish cake soup): 130 Lê Đình Dương
– Nga: 193 Đống Đa
– Vân: 140 Huỳnh Thúc Kháng
Learn how to make Banh Canh at Danang cuisine
Tuan Nguyen